The genus Daldinia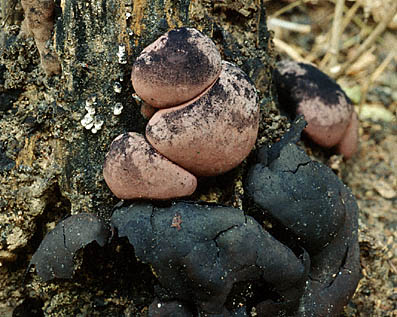 Daldinia eschscholzii Ehrenb.: Fr. (B00-068), Ouagadougou, Burkina Faso (© JHP)
Although genus may not be a good one (very close to Hypoxylon), it can easily be recognized as a true or false natural entity by its distinctly zoned, inner stroma. The stromata tend to be large and semiglobose to turbinate and many species have purple, extractable pigments. They tend to appear early in the decay process. In the Ouagadougou lab., a species (probably D. eschscholzii) had attacked the timber in the wall and was producing an anamorph and young, immature stromata on the wall!

Important references.: Ju, Rogers & San Martín (1997), Martin (1969b) - listed at the Xylariales page)

Note that D. concentrica in the sense of these authors has been renamed D. childiae and the name D. concentrica is again used for the taxon so common on Fraxinus in the UK.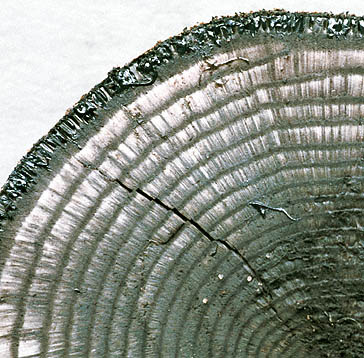 Daldinia eschscholzii (B00-068), Ouagadougou, Burkino Faso (© JHP)
This species of Daldinia seems to be the most common tropical species found both in the old and new worlds. It contains a bright purple pigment. It typically produce stromata in exposed positions, fx on made made constructions, in clearings etc.